Proud family-owned and operated business serving local Pennsylvania communities since 2015.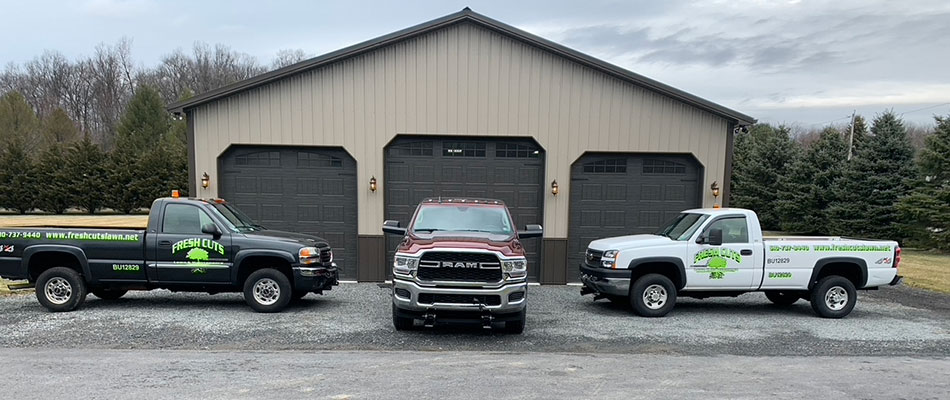 When we started our company back in 2015, we knew we wanted our clients to feel like their lawn care services were being performed by workers who felt like family. That's why we put so much value into our father-son business. Fresh Cuts Lawn & Maintenance is a proud family-owned and operated lawn and landscape business serving homes and commercial properties in areas like Allentown, Macungie, Orefield, and other local communities in Pennsylvania.
---
Professional and quality service guaranteed for your lawn and landscape in East Pennsylvania.
At Fresh Cuts Lawn & Maintenance, we never give anything less than 100% to our clients and their properties. Professionalism is one of the pillars of our company, and that's demonstrated in our appearance as well. All of our company trucks boast the Fresh Cuts Lawn & Maintenance logo and every employee is required to wear a uniform so you always know when one of us is on your property.
Using the latest and greatest lawn care equipment also helps us guarantee that our services get done right the first time. Every tool you'll see our team operating is brand new and cleaned after every use.
It's important that our clients feel secure with their choice of hiring us as their primary lawn care company, so great communication is another vital part of our business. We even carry a separate cell phone with us that's only used for communicating with our clients. Plus, since Fresh Cuts Lawn & Maintenance's owners are also part of the maintenance crew, you can be sure that either Austin or Brett, or even both, are always present on your property!
We run our services year-round, Monday-Friday from 8am to 8pm. Fresh Cuts Lawn & Maintenance has served over a hundred clients so far, and we don't intend on stopping there!
Fresh Cuts Lawn & Maintenance holds a Commercial Pesticide Applicator License. Every professional lawn and landscaping company in Pennsylvania offering any type of pesticide application service must acquire this certification as outlined by the state.