Residential and commercial aeration and overseeding services provided in Allentown, Macungie, Orefield, and nearby cities.
Aeration and overseeding are two essential lawn care services that aid in managing the health and appearance of your lawn.
Every property owner should invest in professional lawn care services. Your lawn is one of the first things family, friends, and guests will be greeted with when they arrive at your home or business. No one wants to see a dead, weed-infested yard with insects swarming in between the grass blades.
Fresh Cuts Lawn & Maintenance can help transform your unhealthy and stressed lawn into a green oasis that's more resistant to pests and diseases. Core aeration and overseeding services aid in managing the health and appearance of your lawn and work better when paired together!
We offer both services for residential and commercial properties near the Lehigh Valley area, including Allentown, Macungie, and Orefield.
---
How Does Aeration Benefit Your Lawn?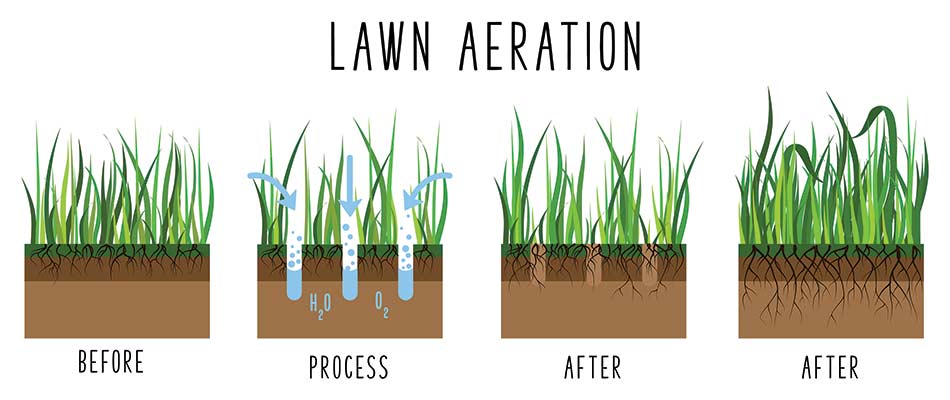 When your lawn experiences heavy foot traffic, the soil underneath becomes compacted. Compacted soil restricts water and oxygen flow through your lawn's root system. The lack of nutrients weakens your grass and encourages more weeds, disease, and insect infestations.
Core aeration helps loosen the compaction and thatch by going over your lawn with a machine and poking small holes into the soil. This creates new channels that allow the nutrients, water, and oxygen to penetrate the root system and support healthier grass growth.
---
Why is Overseeding an Important Part of Lawn Care?
Overseeding is a common lawn care practice for yards that have started thinning out and looking brown or patchy. It offers multiple health benefits for your lawn, including:
Reducing soil run-off and erosion

Dense lawns with a strong root system hold water and soil in place. This ultimately improves the health of your lawn because the nutrients from the soil aren't being lost due to excessive run-off or soil erosion.

Minimizing risk for pests and diseases

Maintaining a healthy lawn is the best method of combating pests and insects from infesting your yard. Some grass seeds are also highly disease resistant.

Increasing lawn thickness

Overseeding can provide you with a thick green carpet that's durable and holds up well to natural weathering, foot traffic, and environmental stress.

Improving the appearance of your grass

Lawns with dead patches or bald spots are unsightly to see every day. Spreading out grass seed across your lawn will restore these areas and discourage any weeds from taking root.
Our grass seed mix is a tall fescue blend with Kentucky Bluegrass. We find the best grass species for residential and commercial lawns are ones that are more drought tolerant.
---
Why Do We Recommend Pairing Our Overseeding and Aeration Services Together?
We always recommended performing core aeration with overseeding at the same time. Pairing these two lawn care services together will deliver the best results to your lawn in a short amount of time.
The punctured holes created by the core aeration machine provide a way for grass seeds to sink deeper into the soil and better establish themselves. Plus, because more nutrients, water, and oxygen can now smoothly pass through to the root system, it'll also lead to higher germination rates in your new seedlings.
---
What's the Best Time of Year for Core Aeration and Overseeding?
For the most effective and worthwhile results, core aeration and overseeding are most often performed in the fall. It preps your grass for spring and will help your turf survive through the colder weather.
Our aeration and overseeding services start on September 1st and run through October 15th. Unlike some other lawn companies, our equipment is brand new and completely owned by us! We use our ride-on aeration machine from Stinger Equipment that allows us to move across your lawn quicker and more efficiently.
To ensure you get the most out of our lawn care services, we recommend aerating your lawn every year and waiting every 2 to 3 years to perform overseeding.
We also offer aeration as an independent service that can be applied in the spring if needed.
---
Don't Wait to Aerate and Overseed So Your Lawn Remains Lush and Green. Call Today for a Consultation!
Here at Fresh Cuts Lawn & Maintenance, we provide high-quality, professional lawn care services for residential and commercial properties located in Allentown, Macungie, Orefield, and surrounding areas near Lehigh Valley, Pennsylvania.
Have a beautiful and thriving lawn by spring when you call us today at (610) 737-9440. We're happy to provide you with a consultation free of charge!