Slice seeding provided for properties in need of a new lawn in Allentown, Macungie, and surrounding areas.
Our slit seeding machines make cuts across the soil so new seedlings can establish deeper in the ground and germinate faster!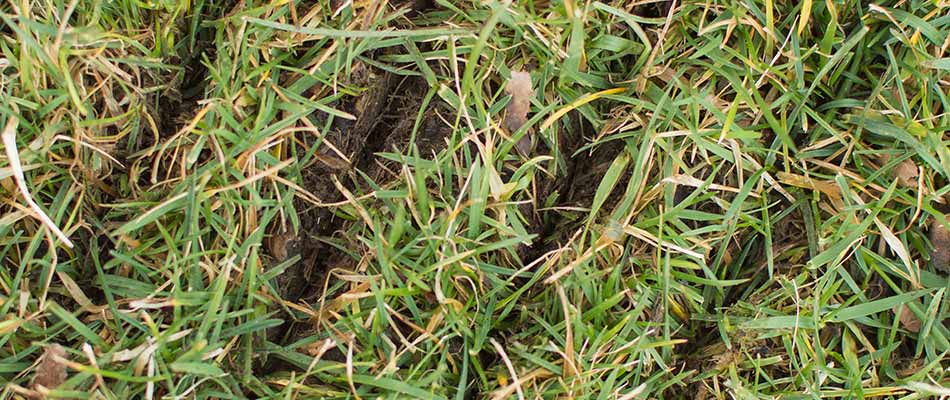 Growing a healthy green lawn can be accomplished in more than one way. Many clients find their yards have greater success producing stronger growth by performing slice seeding.
Slice seeding also referred to as power or slit seeding, involves using a bladed machine that creates slits in your soil to help grass seeds penetrate deeper into the ground. This method is especially beneficial for new homes that have no ground cover and for yards with extensive damage or compaction.
Homes and businesses located in Allentown, Macungie, and nearby cities in Pennsylvania are eligible to receive our slice seeding services!
---
Why is slice seeding more effective than other seeding methods?
Many lawn companies seed new or existing lawns by sprinkling grass seeds all around the exposed soil. The problem with this method is there's no way to guarantee all the seedlings will make their way into the soil deep enough to fully germinate.
Slice seeding improves the seed-to-soil contact and increases the germination rates of the new grass seedlings.
It's important to note that slitting your lawn is an intensive seeding method, That's why this type of service is most preferred for new home plots with no ground cover or for homeowners whose lawns need to be completely renovated.
If your lawn is well-established but simply needs a quick touch-up, we advise our clients to go with our overseeding services.
---
How do we perform slice seeding on your lawn?
Grading the topsoil is done before seeding your lawn so all weeds, rocks, and remaining debris are removed and there's no competition for new grass to grow. We will then measure your land to see how much grass seed is needed. Our company uses the same seed as our overseeding service, but we'll sometimes add in ryegrass seeds so your lawn will sprout up faster!
Power seeding is accomplished using a machine with multiple knife-like blades. As we walk the seeder up and down your lawn, the machine will make long slits in the soil 2 to 6 inches apart. While the cuts are being made, the slit seeder also disperses the seeds deep into the furrows it just created.
We prefer slice seeding to be done in the spring or fall as opposed to the summer because the weather gets too hot. This could limit the potential for the seedlings to grow effectively even with proper watering.
A starter fertilizer is applied at the same time as our slit seeding services to ensure the new seeds receive the proper amount of nutrients.
---
What treatment schedule do we recommend after performing a slice seeding service on your lawn?
Like with any seeding service, it can take about 1 to 2 months until you start seeing results. The earlier slit seeding is performed, the sooner grass will appear.
Caring for your new grass after a seeding service is just as important as providing maintenance for a mature lawn, if not more. Mowing and watering are two things you'll need to keep up with to ensure your seeds grow strong and thick.
You'll need to wait between 6-8 weeks before you can start mowing your lawn. Once the first bit of grass growth appears, you should keep it to at least 4 inches tall. Watering is another key factor in maintaining your new lawn. A bone dry ground will keep seeds from germinating. You'll want to water your lawn daily for 2-3 weeks so the soil is wet but not soaked.
We recommend beginning a fertilization and weed program after 2-3 months so your lawn and soil are properly fertilized during the year!
---
Our new lawn seeding services provide you with a healthy and strong lawn within weeks! Contact us to learn more!
Do you have a new home plot with no ground cover, or struggling to see growth from your current turf? Our new lawn seeding services can help amend these issues!
Fresh Cuts Lawn & Maintenance offers slit seeding for homes and businesses located in Allentown, Macungie, Orefield, and surrounding counties in Pennsylvania. We also offer other lawn care services that will keep your new lawn healthy and strong throughout the year! Call us at (610) 737-9440 to get your quote today!