Seven-step lawn fertilization services provided for homes & businesses in Pennsylvania around Allentown, Macungie, & Orefield.
Our seven-step fertilization process administers key nutrients your lawn needs to prevent diseases and produce healthy, green growth year-round.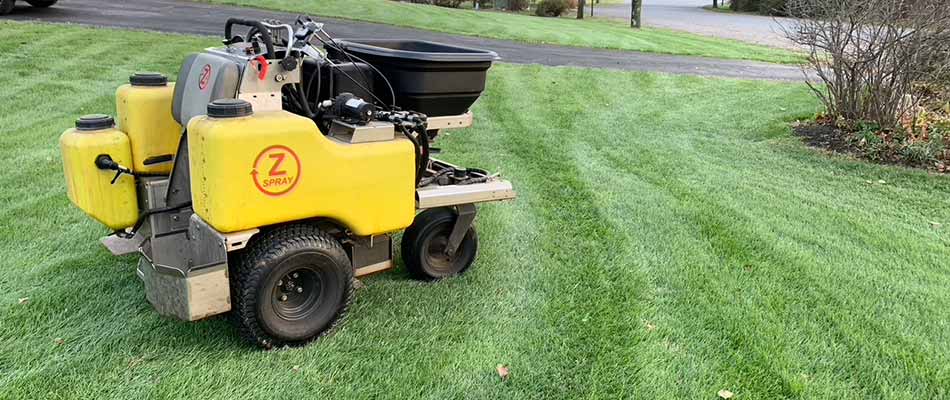 Fertilization is one of the most important steps in maintaining your lawn. Your soil slowly loses nutrients over time and impacts how new and current grass will grow. A yard that hasn't been properly fertilized can begin to see signs of excessive weed growth, diseases and pests, and spots where no grass grows at all.
Our seven-step lawn fertilization program delivers nutrients directly onto your lawn and soil every 4 to 6 weeks so your grass stays healthy and strong all year long. We service homes and businesses near and around Allentown, Macungie, Orefield, and surrounding areas in Pennsylvania.
---
Fertilizing your lawn protects it from diseases, pests and insects, and excessive weed growth.
As mentioned before, fertilizer is an important lawn care service step that shouldn't be skipped. Fertilizer supplies your lawn with certain levels of nitrogen, potassium, and phosphorus. This nutrient boost helps support strong and healthy growth that protects your yard from issues like:
Fungal diseases
Excessive weed growth
Pest and insect infestations
Thin or poor grass growth
---
Our seven-step lawn fertilization service starts in March and runs until December!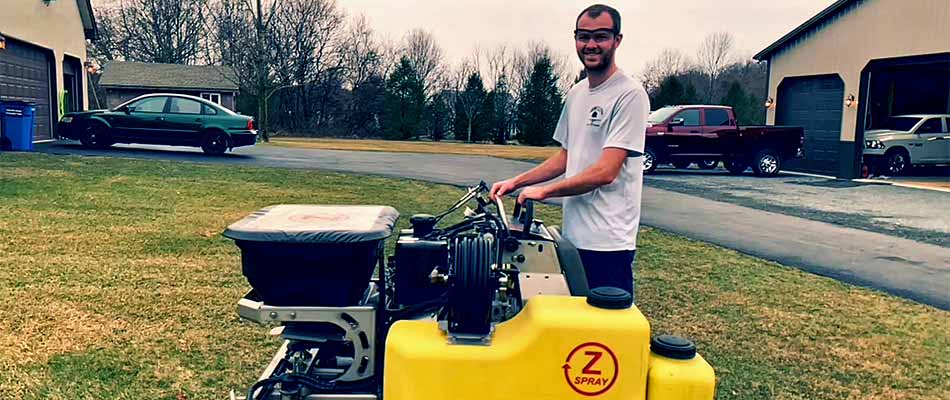 Below is a detailed outline of our seven-step lawn fertilization program so you know exactly what you're getting with our services! Every step is performed between 4-6 weeks apart so your lawn sees the full benefits of each fertilization application.
Step One: (Late March/April)

We apply a slow-release fertilizer with a high nitrogen content. Nitrogen encourages more chlorophyll production to promote healthy growth. A pre-emergent weed control treatment called Prodiamine is also added during the fertilization application to prevent crabgrass and other grassy weeds from appearing in the spring.

Step Two: (Beginning of May)

Another high-nitrogen, slow-release fertilizer is applied to your lawn with a second round of crabgrass weed control. This post-emergent is a granular chemical known as Dimension. It is the only pre-emergent herbicide that offers excellent early post-emergent crabgrass control.

Step Three: (End of May/Beginning of June)

During this fertilization application, we like to add a post-emergent blanket spray for clovers, dandelions, and broadleafs.

Step Four: (End of June/Beginning of July)

Since grubs tend to hatch around late August, we include a preventative treatment application to minimize their appearance. The granular fertilizer we use also helps control fleas and ticks.

Step Five: (August)

One way to strengthen your lawn's root system is by applying a low nitrogen fertilizer. This will help the lawn put more energy into developing stronger roots.

Step Six: (Sept./Oct.)

We apply another high nitrogen, slow-release fertilizer to help prepare your lawn for the winter weather. That way your lawn receives a healthy dose of nutrients before it goes into dormancy.

Step Seven: (End of Nov./Start of Dec.)

Our final fertilization step is a lime application. Lime balances the pH levels of your soil and cleanses the root system so your grass can better absorb essential nutrients.
---
Enjoy a lush, green lawn by signing up for our seven-step lawn fertilization service!
Having a drab lawn can hinder the overall appearance of your property. Performing yearly fertilization applications keeps your yard in tip-top shape and produces a thriving lawn with strong grass growth.
Fresh Cuts Lawn & Maintenance offers a seven-step lawn fertilization service that runs from March to December. Our process also includes weed control treatments to prevent common weeds from popping up during the growing seasons.
Our services are available for residential and commercial properties located throughout Allentown, Macungie, Orefield, and surrounding areas in Pennsylvania. Call today at (610) 737-9440 to get started with our yearly fertilization services!